International Children's Games flag tour begins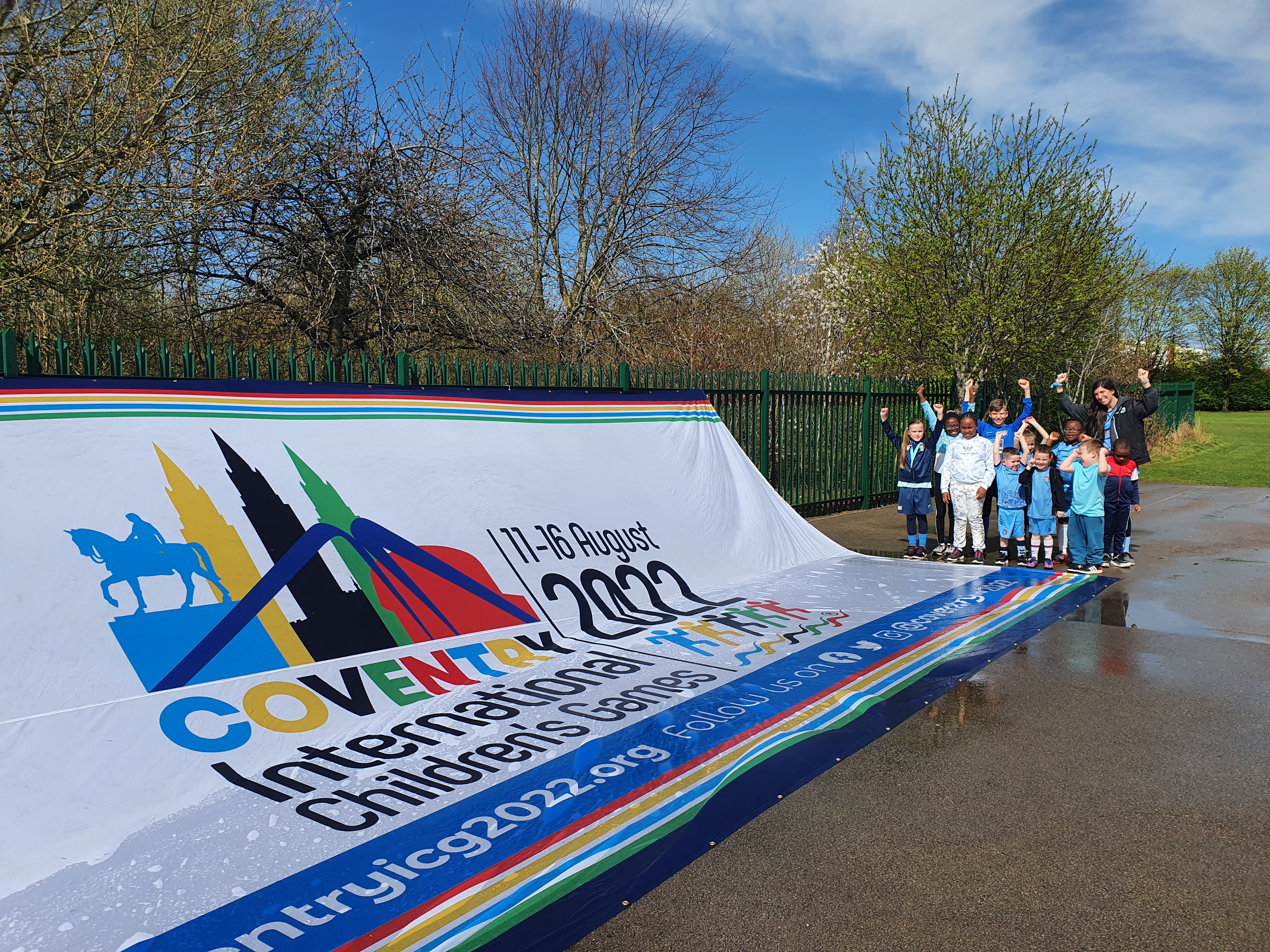 After calling out to the city for clubs, schools and organisations to host the giant International Children's Games' (ICG2022) flag, the first stop was made at St Patrick's Catholic Primary School.
St Patrick's Catholic Primary School hosted the flag for the day as part of their ICG2022 sports festival. The children enjoyed making their own flags and taking part in sports that will be a part of the Games, all while having the flag displayed for the duration of their school festival.
Nursery classes all the way up to year six got involved in the day.
Elise Liggins, Teacher, St Patrick's Catholic Primary School, said: "We are really excited at St Patrick's to be a part of the International Children's Games' flag tour. It was the perfect edition for our ICG2022 sports day with all of our children getting behind Team Coventry. We have been making flags, taking part in different sports and reading about the history of the Children's Games."
Andy Williams, Director of Business, Investment and Culture, Coventry City Council, said: "The flag tour is a great opportunity for Coventry schools, charities and businesses to show their support for the Games and of course for all competing young athletes.

"It's brilliant to see that the first stop was one of Coventry's primary schools and that younger children got the opportunity to see the flag, learn about the Games and enjoy a day of sport and physical activity."
Watch a snippet of the school's day with the flag.
The flag's next stop will be at Coventry Rugby Club.
After the second stop, the flag will continue its tour around Coventry in the buildup to the Games that will take place from 11-16 August 2022.
The flag can be displayed from the exterior of buildings, in halls, at events – the possibilities are endless and can provide a fantastic back-drop with its size of 10m(wide) x 5m.
If you would like to host the ICG2022 flag, or would like further information, please email covsport@coventry.gov.uk
Keep updated on the International Children's Games by following '@coventryicg2022' on Twitter, Facebook and Instagram.
Sign up to the new Coventry ICG 2022 newsletter to receive updates straight to your inbox.