Team Coventry logo competition winner revealed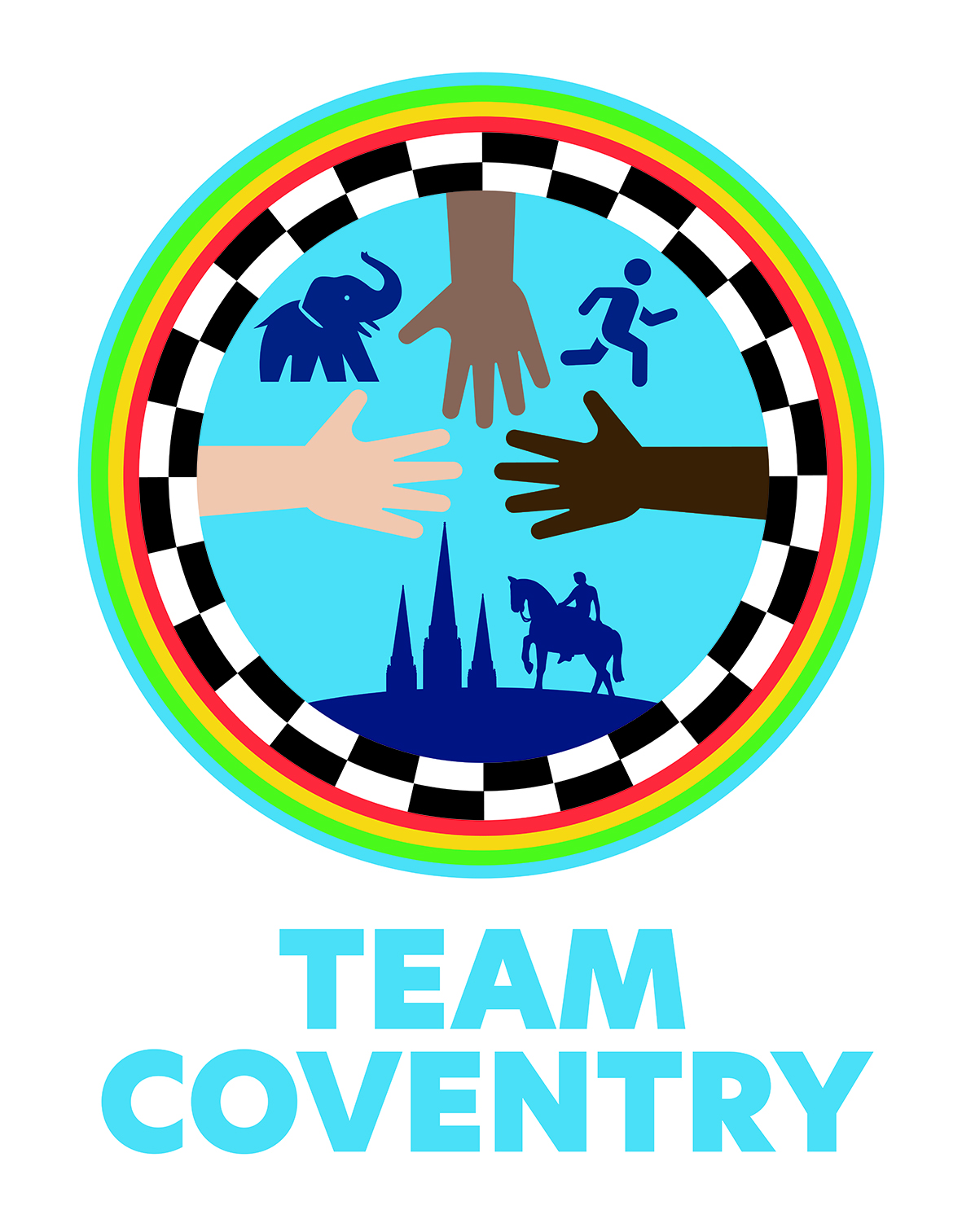 The winner of the International Children's Games Team Coventry logo competition has now been revealed.
The winner of the competition is Zigi from Park Hil Primary School. Zigi's logo design incorporates many important elements including friendship, cultural diversity, Coventry landmarks and iconic themes such as Two Tone.
All Coventry students aged 4-16 years were invited to design what they think would make the perfect Team Coventry logo to represent our city during the Games.
More than 600 fantastic entries were made by children across the city.
The new Team Coventry logo will appear on all sports kits and uniforms for our city's participants during the Games that will take place from 11-16 August 2022.
A voting panel consisted of Team Coventry's sponsors, Bericote Properties and Glencar Construction, Team Coventry Executive Board and Coventry City Council Deputy Leader.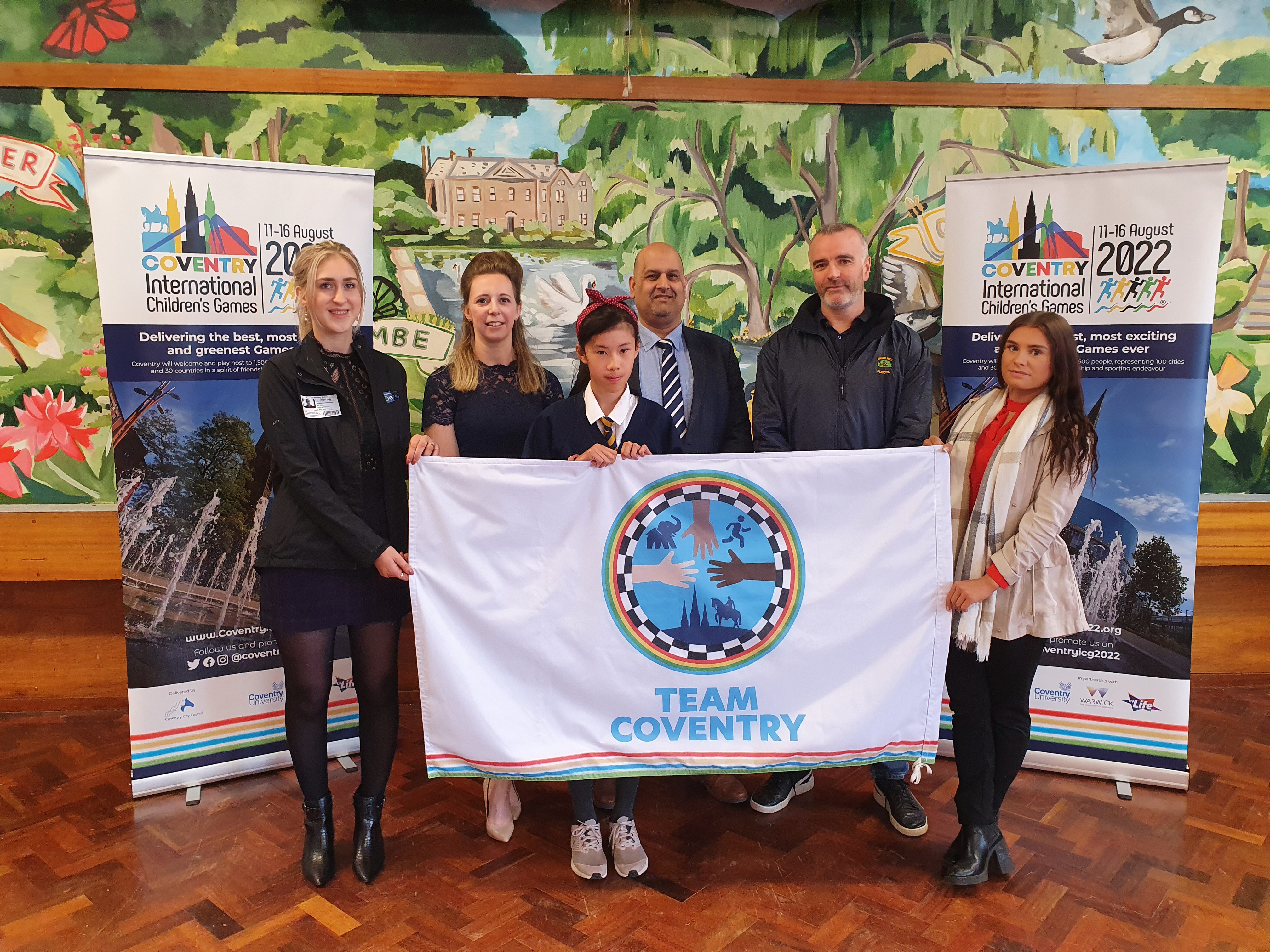 Pictured left to right: Rebecca Davidson - Bericote Properties (Team Coventry Sponsor), Chloe Leaver - P.E Lead at Park Hill Primary, Zigi - competition winner, Cllr Abdul Khan - Deputy Leader Coventry City Council, Paul Griffin - Headteacher at Park Hill Primary, Courtney Whittle - Glencar Construction (Team Coventry Sponsor).
Cllr Abdul Salam Khan, Deputy Leader, Coventry City Council and Chair of International Children's Games Stakeholder Board, said: "Congratulations to Zigi on winning the Team Coventry logo competition. There were so many fantastic entries from schools and young people across the city which was great to see.

"Zigi's logo is all about Coventry and demonstrates what the city stands for. I'm really pleased that we could give all of the students of the city the opportunity to get involved with the Games. Well done and thank you to all that entered, and I look forward to seeing the logo on the Team Coventry kit at the Games this summer."
Team Coventry sponsors Rebecca Davidson and Courtney Whittle from Bericote Properties and Glencar Construction, added: "Well done to Zigi for winning our logo competition for Team Coventry this summer. The logo she designed does a fantastic job of representing the best bits of Coventry and we're sure the athletes will be proud to wear it on their kit for the event."
Themes and ideas were suggested to students as inspiration for their logo design, which included International Children's Games colours, iconic buildings and structures in the city along with themes of the Games itself such as inclusivity and sustainability.
Danny Kingham, Team Coventry Manager, said: "This competition was a brilliant way of educating the children of the city about the Games and getting them involved in the action.

"The Team Coventry athletes were excited to be a part of the final voting process and we will be wearing the new logo and waving our Team Coventry flag with pride at the Games."
Listen to Zigi talk about her logo design on YouTube.
Keep updated on the International Children's Games by following '@coventryicg2022' on Twitter, Facebook and Instagram.