'Team Coventry' set to expand with more selection events coming soon
As we draw closer to the International Children's Games, more selection events for young people to join Team Coventry for the Games will be taking place in March.
Both climbing and athletics selections are set to take place. The climbing will take place on both Saturday 12 and Sunday 13 March at the University of Warwick's Sport and Wellness Hub from 3-5pm.
Athletes must be a minimum of Level V4 for bouldering and a minimum of Level 6B+ for lead and speed climbing.
The athletics selection event will take place on Sunday 13 March, 12noon – 4pm at the University of Warwick's Athletics Track. 100 metres, 400 metres, 800 metres, 1,500 metres, high jump, long jump and shot put selections will all be made.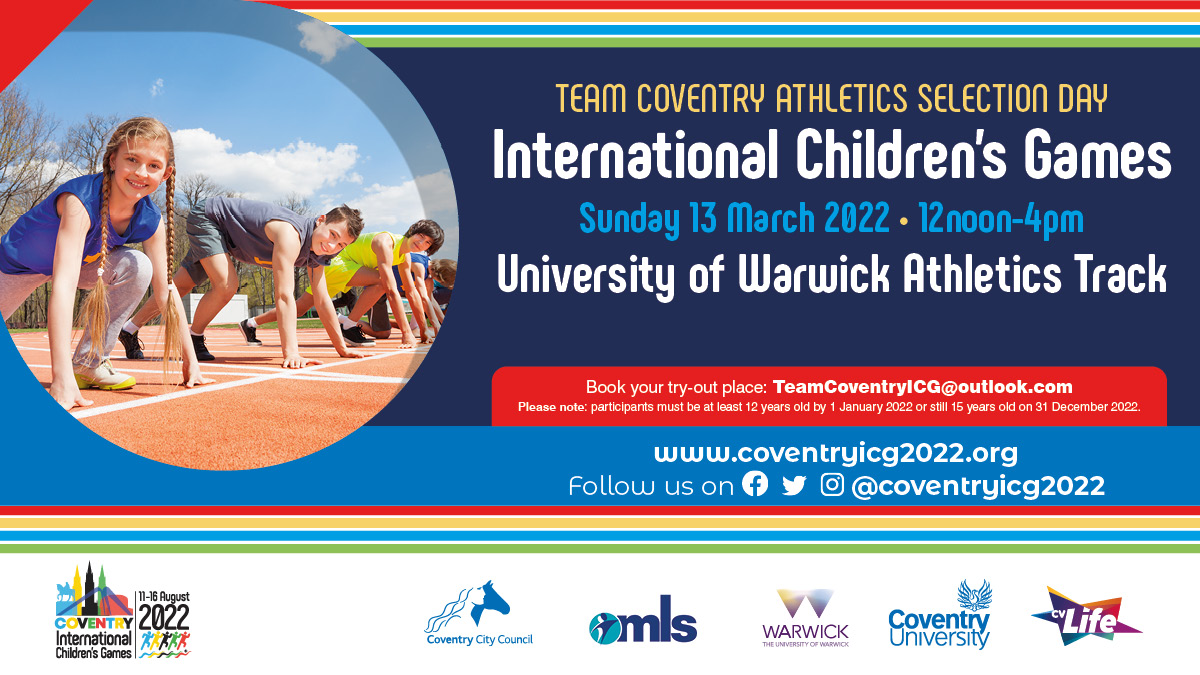 Local coaches will select individuals to represent our city during the international event taking place from 11-16 August 2022.
Athletes do not have to be a member of a club to try out for either sport.
The athletes selected will then become a part of the official Team Coventry for the International Children's Games this summer.
Cllr Abdul Salam Khan, Deputy Leader Coventry City Council and Chair of the International Children's Games Stakeholder Board, said: "After the first Team Coventry selection event for basketball, I'm really excited to hear that we have two more selection events in the pipeline.
"We're really making strides now and I really look forward to seeing the children take part in the try-outs for athletics and climbing at two great city venues that will also be used during the Games in the summer."
Lisa Dodd-Mayne, Director of Sport and Active Communities, University of Warwick, added: "We're absolutely thrilled to be one of the co-host venues for the Coventry International Children's Games 2022 in the Summer and also the selection event for both climbing and athletics on 12 and 13 March.
"Our climbing centre at our world-class Sports and Wellness Hub and our athletics track are ideally equipped to welcome the best young sporting talent from cities across the world.
"We're passionate about making a real tangible difference to the health and wellbeing of children in our local community so are excited about supporting a programme that will help to inspire the sporting stars of the future."
Nick Bennett, Coventry Godiva Harriers Club Secretary, said: "As part of the International Children's Games Coventry Godiva Harriers is organising and hosting trials for the athletics' track and field team selection.
"There will be a range of events from the 100 meters to the high jump for athletes to try and gain selection in. This is a great opportunity for athletes in Coventry to be selected to represent their home city and compete against other major cities from around the world in what will be a fantastic festival of sport."
The International Children's Games in Coventry will be the first in the history of the Games to be inclusive and see disabilities celebrated throughout. Coventry also aims to make the Games the greenest ever, making conscious decisions to ensure sustainability as much as possible.
Climbing – including lead, bouldering and speed climbing – will take place at the University of Warwick's Sport and Wellness Hub during the Games, so those who attend the selection day will get a taste of what it will be like to compete at an official International Children's Games facility.
The athletics event will take place at the University of Warwick's Athletics Track during the Games and just like those attending the climbing selection event, children will see how it feels to use the same track that young athletes from around the world will also be joining them on during the Games.
Please note, participants must be at least 12 years old by 1 January 2022 or still 15 years old on 31 December 2022 to take part. They must also come from a household that pays tax to Coventry City Council.
For more information on either selection event, please contact TeamCoventryICG@outlook.com.
Keep updated on International Children's Games by following '@coventryicg2022' on Twitter, Facebook and Instagram.
Sign up to the Coventry ICG 2022 newsletter to receive updates straight to your inbox.